Defeating A Vampire!
Posted On November 12, 2018
http://johnjohnston.info/flickrSounds/show3.php?j=1542001969
Here's my video. Try as I might, I was not able to get it to embed. So, just click on the link!
---
So, for this assignment, I had to make a slideshow using FlickrSounds. For a simple assignment, this was harder than it should have been!
I knew that I wanted to make a story with the words. in fact, on there is says for DS106 students for use 3 pictures and sounds to make a story. However, the assignment that I've linked to doesn't say that, and I didn't want to tell a story with only 3, so I didn't!
The weekly assignments page says to include your character as much as possible. Last week, I did something with the strigoi, one of her favorite legends/folklore, and since that was a smaller assignment compared to her other favorite creatures, I decided to do it again. I went into the Strigoi Wikipedia page and found the page for Jure Grando, the first real person in historical records who is said to be a vampire.. Though technically not a strigoi, as he was Croatian, not Romanian, I didn't notice this until just as I'm writing this. Maria likes folklore in general, so even if not a strigoi, she would like this legend.
Anyway, I used that page to find the course of events that I would be describing. I then went onto FlickrSounds. I searched for words connected to what I wanted. This took so long! The pictures wouldn't be right (a lot of them were weird) and/or the music would be too long, etc.
Eventually, I gathered all of the slides that I needed. I then had to try and embed it here.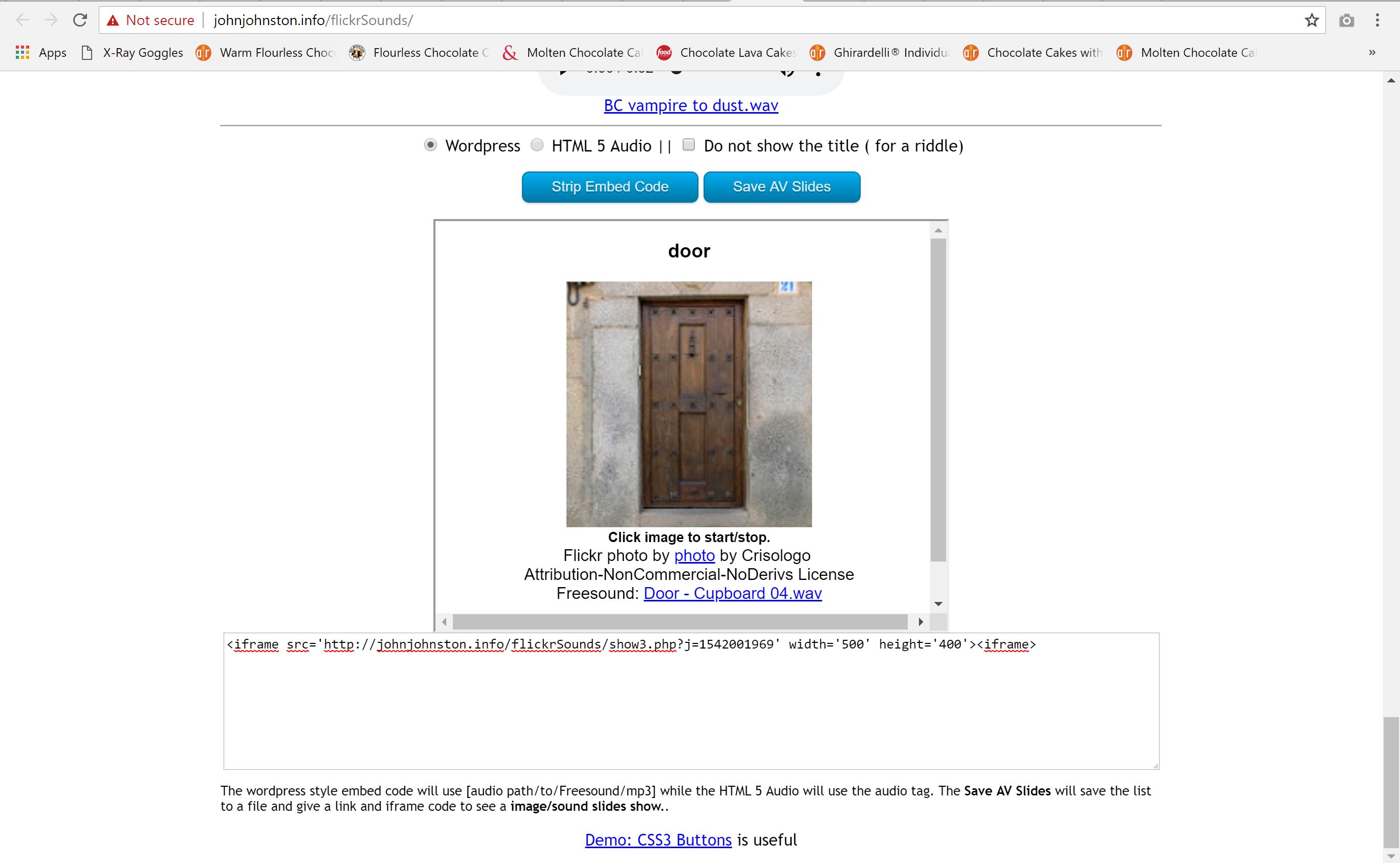 I could not do it. I don't know why, but it wouldn't embed when I just copy-pasted the iframe code. I tried to "add media" it, but Wordfence Firewall blocked it. I didn't want to whitelist it, as I was worried that something else could try and use that to get in. Eventually, I discovered that I could just take the URL from the iframe code and paste it into this post. I wouldn't embed, but at least it would link to the slideshow and the slideshow would work properly.
Overall, while I like the story I chose, this was frustrating. I am a bit of a perfectionist, so I didn't like not being able to find the perfect pictures and sounds. I also didn't like not being able to embed it!
---
This is the assignment that I made this for:
http://assignments.ds106.us/assignments/flickrsounds-2/
These are the credits for the pictures and videos. The underlined word is the title on the video-what I searched for. Underneath is the information that is on the video, but put here just to make sure!
door
photo by Crisologo
Attribution-NonCommercial-NoDerivs License
vampire
photo by Nicholas Lucien
Attribution License
37-Vampiro antes de gruñir.wav
scream
photo by Josu Sein
Attribution-NonCommercial License
prayer
photo by Moscow Theological Academy
Attribution-NonCommercial-ShareAlike License
angrymob
photo by bobaliciouslondon
Attribution-NonCommercial-ShareAlike License
grave
photo by Discover Waikumete Cemetery
Attribution-NonCommercial License
SHOVEL – Shovel digging into dry dirt (SFX)
exorcism
photo by AZRainman
Attribution License
saw
photo by Mary Hutchison
Attribution-NonCommercial-NoDerivs License
vampire
photo by Nicholas Lucien
Attribution License