House Maisano: A Shadow Stalks About
Posted On September 3, 2018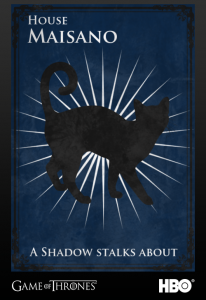 I have to admit that I haven't seen much of Game of Thrones. I've seen the first season, but I haven't watched any more (yet). However, my brothers love Games of Thrones, and my mom has just gotten into it. I think it surprised all of us when she decided to start watching it, since she had always been so adamant not to watch it. Now that she's watching it, she seems to appreciate all of the politics and the story-line, but not so much the nudity and violence. Funnily enough, my brothers like the violence and weaponry.
When I saw the assignment when searching through the many options, I thought it could be fun, especially since my family now all watches the show. A cursory look over the site, http://www.jointherealm.com/sigil.html, didn't show any complicated, hard-to-follow design instructions. It was fun!
I tried to think the design through carefully. Each of the design elements were chosen for s reason. I went through and first chose the name. I wanted it to be my sigil, and a sigil for my family, so I chose Maisano, my last name. Then, I worked on the background. The background I chose was the sun, colored white, with the rest of the background dark blue. I chose this background as it reflects closest to the flag of Virginia. My brothers and I have lived in Northern Virginia our entire lives, and my mom has lived in NOVA since she moved out from California to DC for college. Therefore, it we had a land, it would be Northern Virginia. I also just love Virginia, and I can see myself staying in NOVA even after I move out. After the background, I chose the icon of the (house) cat. My family is a bunch of cat people, even though we have a corgi that we love. I chose for the cat to be black, as it stands out from the white sun and also because we have a black and white cat. We also have a tabby cat, but I can't do that marking on this website. My aunt, also has the last name Maisano, loves cats and has many black cat items and even at one point an actual black cat. I could have added another cat to reflect that we in my immediate family have two cats, and a dog icon as well, but I liked the simplicity of the one cat icon. Finally, I chose a house motto. This made me stuck. I looked over some of the other house mottoes, but they all sound so high and mighty and poetic. So, I chose "A Shadow Stalks About" referencing the black cat on the sigil. It thought it sounded poetic enough, and reflects the cat.
Overall, I enjoyed using this site, and will do so again soon. Maybe my family and I could make an "official" family sigil. Until then, I am quite happy with what I created!
---
This is the assignment I made this for:
http://assignments.ds106.us/assignments/create-a-game-of-thrones-house/