A Cryptozoologist's Postcard
Posted On September 30, 2018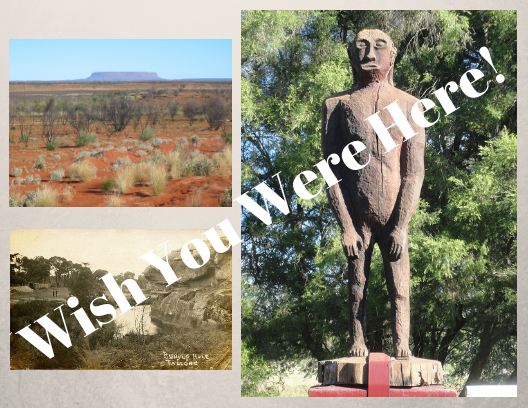 ---
So, for this assignment of making a postcard, I chose to do one of Australia, again based off of my character Maria's trip with her friends to find the yowie and the bunyip.
The assignment creator used Canva to create her postcard (I also just noticed that her name is also Maria. Funny coincidence!), so that's what I decided to use too.
I was stuck between using a stereotypical-looking picture of Australia, what you'd actually see on a postcard, a bunyip-related picture, as the bunyip has featured in other posts, or the yowie, which I haven't touched on yet. I decided to go with all three, as postcards can have more than one picture. The pictures I found were chosen because not only did I like them, but also because they were able to be used as long as I attributed them.
It was not super difficult to create this postcard. I used the postcard template on Canva and then uploaded and inserted each picture, which was simple to do. Canva, while I am still learning all of its function and issues, seems to be designed for simplicity and ease of use. After I inserted each picture, I scaled them down to fit. For the two left pictures, I wanted them to have the same amount of space on the top and the bottom and I wanted all three pictures equal distance to the sides. I then typed out the words, adjusting it several times to fit the way I wanted. I changed the words from black to white since I wanted them to stand out more. Finally, I changed the background from white to that tan-ish, gray-ish textured color, so the words would stand out more. Overall, the process went smoothly. The hardest part was indecisiveness!
I think my character Maria would have sent many postcards over the years to her friends and colleagues, many of whom are also cryptozoologists, as well as her family, who support her, even if they sometimes question what she does and often times worry about her! Maria also keeps a postcard from everywhere she travels, to remember the good times and the friends she travels with and meets along the way.
---
This is the assignment that I created this for:
http://assignments.ds106.us/assignments/destination-post-card/
This is where the pictures came from:
https://commons.wikimedia.org/wiki/File:Outback.JPG
Gabriele Delhey
Gabriele Delhey put it under the GFDL
https://www.flickr.com/photos/hwmobs/33117291273
Bunyip Hole, Tallong, N.S.W. – 1911
Under Public Domain
https://commons.wikimedia.org/wiki/File:Yowie_Statue,_Yowie_Park,_Kilcoy,_Queensland.JPG
English: Yowie Statue, Yowie Park, Kilcoy, Queensland. Photo taken on 21 April 2013
Somersetpedia.paul