The Rocky Road to Dublin-Music Mapped
Posted On November 13, 2018
---
So, for this assignment, I had to choose a song with geographic reference, create a Google map with them along with media, and then make a video.
The first thing I did was try and find a song. I google songs that mention cities and I have some. However, I didn't know any of the songs. I remembered this song, and I liked that I could tell a story (of where the character travels) with this map and video.
I then had to figure out how to record both the map and the video. I didn't know how to do that. I used the Game Mode on Windows 10 to record. I tried to have the video and the map in separate windows, but when I would click on one, the other would disappear. If the windows didn't disappear, then Game Mode would only record the window that I started with, and not the other window. I originally just tried using Google maps, not creating a map, but that didn't work. I also tried using Google Earth, but the whole "recording only recording one window" thing happened. Google Earth also moved too slowly!
Finally, I decided to just make a Google map like the assignment said to. I did, and I found pictures for each of the 5 places.
I then decided to just switch on and off between the video and the map. I wanted to have both going at the same time, but I just couldn't figure out how to do so! I took multiple screen videos until I was happy with what I got.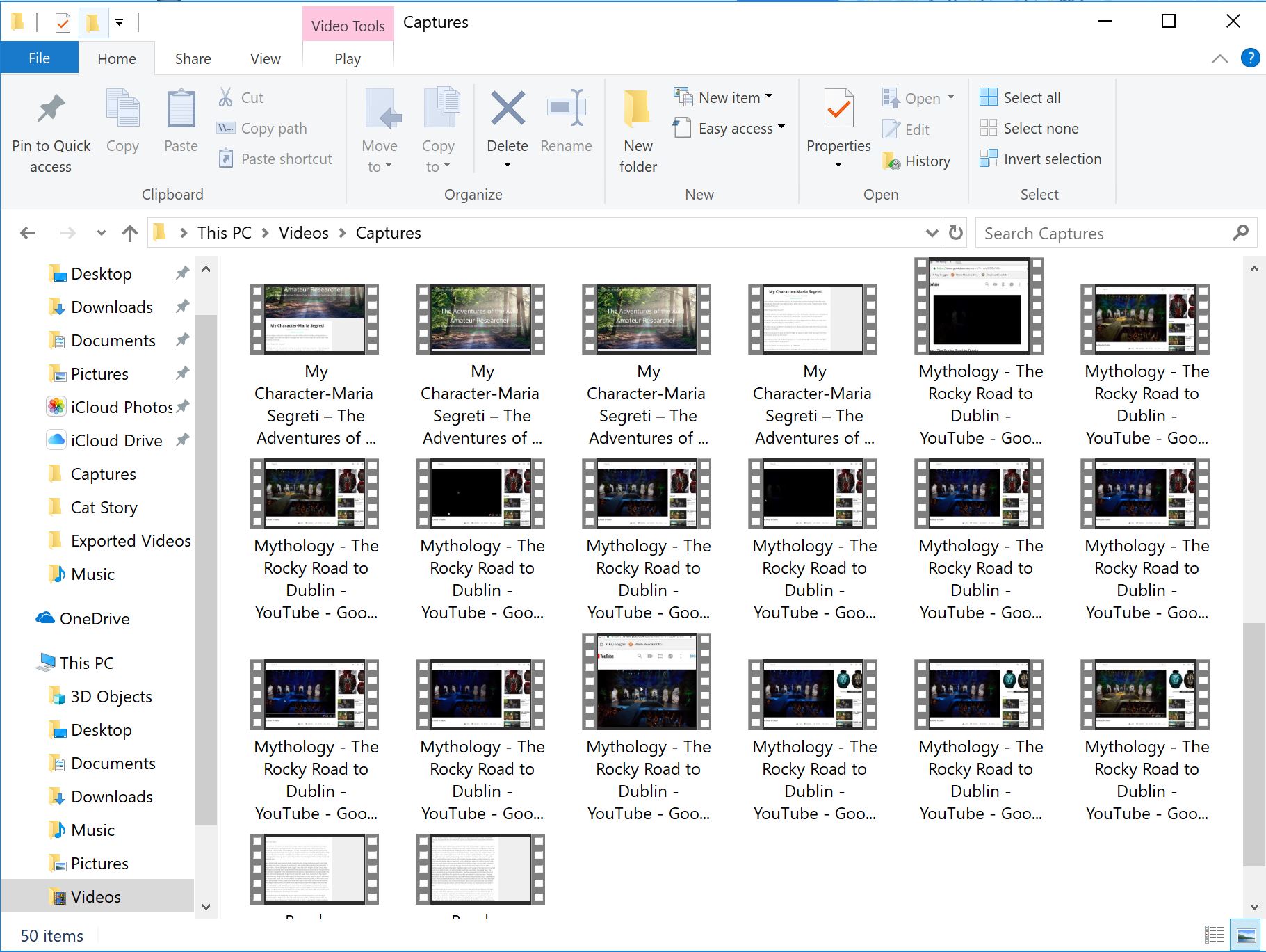 After, I uploaded it to the Microsoft Photos app and added the title picture and the rest of the pictures, including the credits. Then, I uploaded the video and wrote this post.
Overall, this was more frustrating than I thought it would be. I really wanted both the map and the video to on screen at the same time. I do think that I better understand how screen recording works and I did get more practice, which is always good. The song also got stuck in my head for a while, which is either good or bad, depending on if you like the song! I like the song, although I have the look up the lyrics to know what the heck they're saying!
I just hope that I don't get a copy strike for this!
---
This is the assignment that I made this for:
http://assignments.ds106.us/assignments/music-mapped-videos/
This is the video I used:
https://www.youtube.com/watch?v=qqAFDRizW4c
Mythology – The Rocky Road to Dublin
https://commons.wikimedia.org/wiki/File:Tuam_High_Street_2009_09_14.jpg
Tuam, County Galway, Ireland
https://commons.wikimedia.org/wiki/File:Mount_Street,_Mullingar.jpg
English: A view of Mount Street, Mullingar, Co. Westmeath, Ireland
Gaeilge: Radharc de Sráid an Mhóta, An Muileann gCearr, Co. na hIarmhí, Éire
http://www.geograph.ie/photo/4276314
Colin Park
Colin Park / Mullingar – View N along Mount St / CC BY-SA 2.0
https://commons.wikimedia.org/wiki/File:St-Anns-Church-Dublin-Morning-2012.JPG
English: St. Ann's Church at the eastern end of Anne Street in downtown Dublin on an early morning in March.
http://bjornfree.com/galleries.html
http://www.geograph.org.uk/photo/403042
SH2582 : Holyhead Harbour and The Fish Dock
Copyright Brian Charlton and licensed for reuse under this Creative Commons Licence.
Holyhead Harbour and The Fish Dock
cc-by-sa/2.0 – © Brian Charlton – geograph.org.uk/p/403042
https://www.flickr.com/photos/radarsmum67/15769050225/
Along Lime Street, Liverpool.