Places to visit in Arlington
Posted On September 30, 2018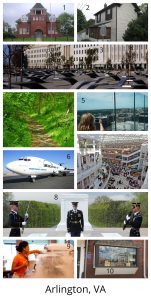 1-Arlington Historical Society
2-Ball-Sellers House
3-Pentagon Memorial
4-Potomac Overlook Regional Park
5-The Observation Deck at CEB Tower
6-Zero Gravity Corporation
7-Fashion Centre at Pentagon City (AKA Pentagon City Mall)
8-The Tomb of the Unknown Soldier
9-Nicecream
10-Livin' The Pie Life
---
My family and I moved to Arlington not too long ago, so I have't explored much of the county yet (yes, Arlington is a county, not a city). I thought that this assignment, about finding places near you to visit, would be a good first step in starting to explore my new home.
The places I decided on were:
1-Arlington Historical Society-As a historic preservation major, this seems right up my street. It is also close to my house, so I should have gone to it by now!
2-Ball-Sellers House-As the oldest structure in Arlington, this also seems like something a historic preservation major would like!
3-Pentagon Memorial-My father was in the Pentagon when it got hit, but luckily he was on the side that wasn't hit and got out safely. Unfortunately, others weren't so lucky. It would be nice to visit to honor their memory.
4-Potomac Overlook Regional Park-I like nature, but I am lazy and an indoor person. Just looking at the pictures of this park and others make me actually want to go hiking! This also doesn't seem too rocky or strenuous, so my chubby corgi can go!
5-The Observation Deck at CEB Tower-This seems like something cool to do for a quick excursion. I am not a fan of heights, but the fact that they are tall glass windows helps a bit. Again, just something quick and fun to do.
6-Zero Gravity Corporation-This is probably never going to happen, as it is almost $5,000 but a flight that simulates weightlessness and low gravity sounds so cool!
7-Fashion Centre at Pentagon City (AKA Pentagon City Mall)-I have only been here because the metro stop is there, but it looks like a cool mall. My friends and I would always go to Tysons Corner Mall (I lived in Vienna, VA) but maybe we can also check out this one.
8-The Tomb of the Unknown Soldier-As with the Pentagon Memorial, it would be nice to honor the memories of those who died. While I put the this Tomb as the picture, it also includes the whole cemetery. I don't have it in me to fight for our country, but I am thankful to those who do and did.
9-Nicecream-This appears to be a good ice cream place that uses liquid nitrogen. I love ice cream and never have had liquid nitrogen food, so it would be a cool experience.
10-Livin' The Pie Life-While I am not the biggest fan of pies (I like them well enough, but I prefer cakes. I do love chocolat pies, or just anything chocolate), my mom loves pie. I am sure she'd like to check it out.
This assignment did take me a little while to complete. I used TripAdvisor to search for the places, since TripAdvisor has many different categories and there are reviews for each place, so I know that what I pick it good. This took a while to search and decide, as I wanted to pick places of various different categories. So many options to choose from! Then, I used befunky to make my collage. The hardest part of making the collage was to fit all of the pictures in. 10! I tried one format at first, didn't work, then tried the "Collage Wizard" and have it generate me a collage format, which also didn't please me. I ended up at this one, as it had the right number of slots and space at the bottom to put "Arlington, VA". I wanted to have the text say each place name, but then either the text would be too tiny to read or cover up the entire picture. So, I settled on just putting a number label on.
In terms of picture layout, I went with pairing up the old buildings on top, then the two memorials got the larger slots, since I felt that they deserved them the most, then the two scenic places, then the two cool indoor places, and then the food places on the bottom.
Overall, I am happy with how it turned out. Honestly, the hardest parts were the research, but also trying to write all of this up! I think I did find some places to explore in my new county, and I can't wait to begin!
---
This is the assignment that I made this for:
http://assignments.ds106.us/assignments/what-are-you-missing-nearby/
This is where all of the pictures came from:
https://commons.wikimedia.org/wiki/File:Arlington-historical-society.jpg
Arlington Historical Society, Arlington Ridge, Virginia.
https://en.wikipedia.org/wiki/File:Ball-sellers-house035.JPG
Ball-Sellers House
https://commons.wikimedia.org/wiki/File:US_Navy_080904-N-5319A-008_The_Pentagon_Memorial_honoring_the_184_people_killed_
at_the_Pentagon_and_on_American_Airlines_flight_77.jpg
U.S. Navy Photo by Mass Communication Specialist 1st Class Brien Aho
Image is in the public domain
https://www.findyourchesapeake.com/places/potomac-overlook-regional-park
No author listed
https://www.flickr.com/photos/arlingtonva/29013579748
The Observation Deck at CEB Tower
https://www.flickr.com/photos/44124348109@N01/214792903
G-Force One
https://commons.wikimedia.org/wiki/File:The_Fashion_Centre_at_Pentagon_City.jpg
Interior photograph of the Fashion Centre at Pentagon City, taken from the 4th floor of the mall.
https://commons.wikimedia.org/wiki/File:Tomb_of_the_Unknown_Soldiers.jpg
Sgt. Erica Vinyard, U.S. Army
Image is in the public domain
https://www.tripadvisor.com/Restaurant_Review-g30242-d6662698-Reviews-Nicecream-Arlington_Virginia.html#photos;aggregationId=101&albumid=101&filter=7&ff=135387996
https://www.tripadvisor.com/ShowUserReviews-g30242-d10337320-r497303684-Livin_the_Pie_Life-Arlington_Virginia.html#photos;geo=30242&detail=10337320&aggregationId=101
"photo0.jpg"
Traveler photo submitted by Peter R (Jun 2017)